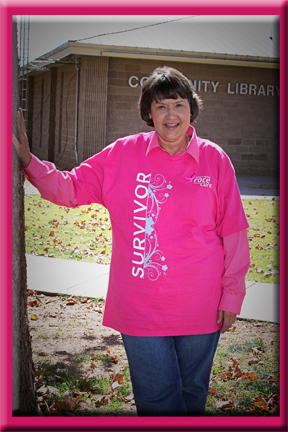 Linda Thompson has been with SE ISD for almost 30 years. She started in 1979-81 teaching US History & Government in high school then came back in 1986-91 to SEJH to teach History. From 1992 until the present, she has served as our very competent and fun librarian. She is a master storyteller that can captivate audiences of all ages!

When asked how Mrs. Thompson first got involved with the Susan G. Komen Race for the Cure, she said she had friends at that time that had been diagnosed with breast cancer, including Evelyn Verden and Kathie Shirey. She said God had been whispering to her about helping with the cause but she didn't listen. Her life changed dramatically in January 2003 when she was diagnosed herself, and God definitely got her attention. Dorothy Newland from Hobbs was the first to get her on a 'team' in the fall of '03, and she hasn't missed a year since! In 2004, she had a team 'Wolverines Against Cancer' and in 2006 was on the Race for the Cure Committee to get the word out to the surrounding 16 counties. She is quick to point out that over 75 cents of every dollar that is donated stays in this area used toward cancer awareness, treatment, prevention and grants to organizations like Girl Scouts to promote early education in prevention.
Linda says the best advice she would give others about breast cancer prevention is to listen when God whispers. Know your body and what is right for you. Find a doctor you trust, that you can talk to, and that will listen to you. Perform self exams, have regular mammograms, and don't wait to have any irregularities checked out. Early detection is the key to a higher cure rate. As far as advice when it comes to treatment -- she said to prepare yourself for the hardest battle of your life while keeping in mind that cancer is NOT a death penalty. Take someone with you to the doctor appointments that can help 'listen' with you, ask other patients about doctors, stay on top of your situation and treatment, be educated, and above all, surround yourself with strong, supportive people like the friends in her community and the ones she met through Komen. She should know after 8 rounds of chemotherapy, 7 weeks of radiation, and 2 clinical trial studies.
One cannot go through a journey like the horrors of cancer without having some positives come out of it when they are least expected. Linda said she saw many positives emerge including knowing who her true friends are - the people in the Springlake-Earth community and school. She mentioned the blessings of prayers, cards, visits, job security and the love she continually felt. She mentioned the long talks with God and her increased faith. She now knows for sure that God will never give you more than you and He can handle. She mentioned how she learned to overlook the little things and live life to the fullest with her priorities in order. And she mentioned how she has been blessed and encouraged by the volunteers and survivors when getting involved with Komen.
As you can see, Mrs. Thompson is passionate about Komen and the Race for the Cure. She is now the Volunteer Chairman and was this year's starter of the race. That's right - holding the starting pistol, she started both the 5K and 1 mile walk for over 9,000 participants at the Civic Center in Lubbock! She 'won' the prestigious honor during a silent auction at the "In The Pink Party" hosted by Texas Tech Chancellor Kent Hance.
So what can we do as a community to help? She would love to see more be a part of the race especially students. It is the first Saturday in October and only last from 8:30 to noon. Since statistics say that 1 in every 8 women (that is 1 woman every 69 seconds diagnosed around the world) and 1,970 men will get breast cancer this year, every family will be touched in some way by this disease. She wants you to know what it is, how it will effect you or someone you love, how to have early prevention, and to just be AWARE of all there is to know in order to battle and win the fight against breast cancer.
Thank you, Mrs. Thompson, for your great role model, your commitment to our school and your willingness to be a part of the CURE!