Vince Lombardi 1932-1954
Vince Lombardi is known as one of the most successful coaches in American football history. He was a great leader who inspired and motivated his players.
He was born in New York City in 1913, played high school football, attended Fordham University and played guard on the school's football team. After graduation, he coached at St. Cecilia's Academy before returning to Fordham to coach in 1947. From there he coached at West Point from 1949-53, then at New York Giants in 1954-59. Finally, he became coach of the Green Bay Packers and led them to two Super Bowl victories.
Coach Lombardi is fondly remembered for his quotes and speeches to his teams concerning intensity, sacrifice, belief, commitment, character, leadership, preparation, desire, discipline, teamwork, and winning. His players learned these lessons were worthwhile not only on the football field, but in all aspects of one's life.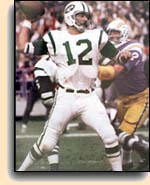 Joe Namath 1959-1979
His nickname was "Broadway Joe". He won a lot of awards for football. In 1943, Joe Namath was born on May 31st in Beaver Falls, Pennsylvania. In 1960, he led his high school team to an undefeated season and accepted a scholarship to play for Bear Bryant at the University of Alabama. In 1962, Joe Namath led Alabama to a 17 to 0 Orange Bowl victory over Oklahoma. In 1964, Joe injured his knee in a game against North Carolina. His knee injury bothered him for the rest of his football career. The New York Jets used their pick gained in their trade with Houston to draft Joe Namath. Joe played for the Jets for most of his football career. Joe signed for a record salary--a three-year deal worth $427,000 with the Jets. 23 days after signing, Joe entered Lenox Hill Hospital to undergo an operation to repair cartilage and ligaments in his right knee. Joe Namath was named the AFL's Rookie of the Year. In 1970, in the first meeting with the Baltimore Colts since Super Bowl 3, Joe fractured his right wrist and was out for the rest of the season. He appeared in films and plays. In 1977, he was released by the New York Jets and signed as a free agent and retired at the end of the season to pursue a broadcasting career. In 1985, Joe was inducted into the Pro Football Hall of Fame in Canton, Ohio. Joe Namath got many awards. Joe quit to become an actor. He was in a play called "The Rainmaker" and a lot of other plays after he retired. Joe was on many magazines such as "Sports Illustrated" and "Life" magazine. Joe Namath was chosen quarterback of the All Time AFL Team voted by the members of the Hall of Fame selection committee. Once Joe Namath was in a commercial to sell panty hose. In the commercial, he had to wear panty hose. He also did a shaving cream commercial. Joe Namath was a good football player and had many talents.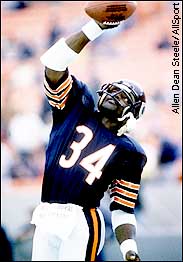 Walter Payton 1980-1999
First grade students report that Walter Payton was a super football player. He played for the Chicago Bears. He died of liver cancer November 1, 1999. He said, "Thank you for your love and support. May God be with you."