Click on the cameras for great pictures!
Fall Fun-Mrs. Carr's Kindergarten Class
Mrs. Carr's Kindergarten has been enjoying a unit on Fall. We have learned about the many things that happen during the Fall, including cooler weather, crops to be harvested, apples that ripen, pumpkins that grow and leaves that change colors and fall from the trees.
As we discussed the harvest so many of our Dads are involved in, both Kindergarten classes decorated a wall with "Our Corny Crows."
As we studied the harvest of apples, of course, we learned about Johnny Appleseed. We put red thumb prints on a tree to make an apple tree after we read Johnny Appleseed by Steven Kellogg. We have added a recipe for "Baked Caramel Apples" that you might like to try.
During class we read some neat pumpkin books, including Pooh's Pumpkin by Isabel Gaines and Pumpkin, Pumpkin by Jeanne Titherington. We even made a little booklet called "How the Pumpkin Grows." (We learned to read this book to Mom and Dad!) You might want to try our recipe for Toasted Pumpkin Seeds if you've never made any of these.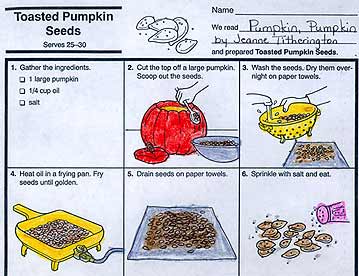 We did lots of projects with leaves. After reading books about seasons (The Berenstain Bears Four Seasons by Jan and Stan Berenstain and Holly Hobbie's Through the Year book), we read Fresh Fall Leaves by Betsy Franco and Beginning to Learn About Autumn by Richard Allington. Art time was fun with leaves. We made leaf rubbings, leaf collages, and we painted our hand with different colors of tempra paint to make the leaves on a tree we drew.
We also cut leaf shapes out of colored construction paper, smeared school glue all over them and sprinkled dry Jello on them. When dry, the leaves had a faint shimmer and smelled great! We also studied about nests in trees as we read The Best Nest by P.D. Eastman. We made nests and were they ever yummy! Here's our recipe.
At the end of our Fall Unit, we dictated our own thoughts about Fall to Mrs. Carr and she wrote them on an owl that we had colored. They looked pretty hanging in our room.
For more Fall information see:
http://www.kidsdomain.com/holiday/fall/index.html