Coach Hulett Gains 100th
Victory as Wolverine Head Coach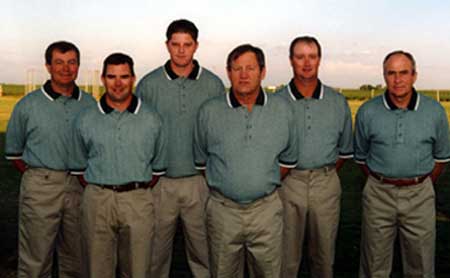 September 24, 1999, at the Wolverine Stadium, the Springlake-Earth football team came from behind and held off the Abernathy Antelopes to a score of 20-18. The win was a milestone victory for Coach Hulett. It marked his 100th win as head football coach at Springlake-Earth High School. Coach Hulett did this as he enters his 13th season at the helm of the football team.
Coach Hulett 's current record is 100-39-4. He has coached the Wolverines to an average of eight wins per year since taking over the program in 1987. He has guided the Wolverines to the playoffs ten of his thirteen years here, including the last nine in a row. Among those playoff teams, Coach Hulett has taken his teams to three quarter-final appearances and to the regional round twice. The Wolverines have been ranked in the state's top ten many times, and even reaching a number one ranking in some polls in 1993, 1996, and 1997. In the process, Coach Hulett has made the Springlake-Earth program one of the most successful small school programs in the state of Texas over the last decade. Coach Hulett has been named South Plains Coach of the Year twice, as well as being elected into the Top-O-Texas Hall of Fame in 1997.
Coach Hulett attributes much of his success to his players, many of whom have been named All-District, All-South Plains, and All-State players. He also believes much of his success is due to his great assistant coaches, particularly Coach Bode, who is also in his 13th season coaching at Springlake-Earth High School.
Much appreciation goes out to Coach Hulett for all his dedication and hard work through the years! It's been great and fun for us all!!
---