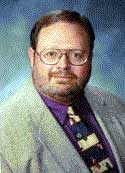 Colleges Attended: WAYLAND BAPTIST UNIVERSITY & WEST TEXAS A&M UNIVERSITY
Degrees and certifications earned: BACHELOR OF ARTS, MAJOR IN ENGLISH; MASTERS IN EDUCATION; MID-MANAGEMENT CERTIFICATION
Number of years of experience: 4 AS A TEACHER AND 3 AS A PRINCIPAL
Professional organizations of which you are a member: TASSP (TEXAS ASSOCIATION OF SECONDARY SCHOOL PRINCIPALS)
Organizations/events you sponsor: LEADERSHIP EARTH, FELLOWSHIP OF CHRISTIAN ATHLETES, AND STUDENT COUNCIL
Hobbies, outside interests: GOLF, PLAYING WITH GRANDKIDS, SINGING, BUILDING THINGS
Family: WIFE-NAN, JERRY-SON, JODI-DAUGHTER, HAYLEY & TYLER - GRANDKIDS
Best Advice: THE WORST MISTAKE YOU CAN MAKE IS TO DO NOTHING, BECAUSE YOU CAN ONLY DO A LITTLE. DO WHAT YOU CAN EVERY CHANCE YOU GET.
Anything else you would like to add: "RICH MEN MEASURE SUCCESS BY THEIR WEALTH; EDUCATORS MEASURE WEALTH BY THE SUCCESSES OF THEIR STUDENTS."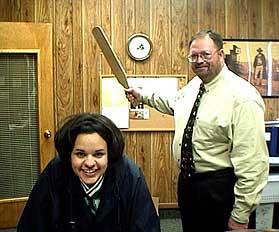 Mr. Vaughn just doing his job!! Poor Nancy...
Back to Mrs. Carolyn Stephens, SecretaryvaughnNext to Coach Mike Walton