Current Issues and Events Contestants: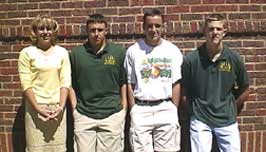 Kristal, Guthry, Slade, Quade
This event focused on the basic knowledge of current state, national, and world events and issues. "Current events" are defined as those which have occurred during the current school year. The content consisted of questions which were posed in such a way as to allow for objective grading and an essay question that all participants were required to answer. Contestants who failed to write an essay were disqualified. Sixty minutes was alloted for the actual testing period.
CONGRATULATIONS TO
THE CURRENT EVENTS TEAM -- 4TH PLACE AT DISTRICT!
Coach: Rick Hulett