Journalism
Contestants: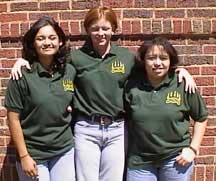 Ida, Kristen B, and April - News Writing
Ida and Kristen B. and Hilda (not shown) - Editorial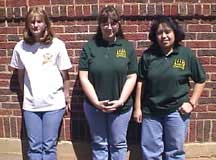 Dana, Kristen S., and April - Headline
Students from Springlake-Earth High School participated in three journalism contests at the district meet in Petersburg on Tuesday, March 28, 2000. Journalism stresses critical thinking and basic communication skills. Each of the following contests were 45-minute contests.
April G., Kristen B., and Ida competed in the newswriting contest. Test material in this contest consisted of a fact sheet from which participants developed an article.
Kristen B., Ida, and Hilda participated in the editorial contest, in which contestants were given a fact sheet and developed an editorial from this information.
SEHS was represented in headline writing by April G. and Kristen S. They read six short articles and wrote prescribed headlines for each.
CONGRATULATIONS TO
KRISTEN -- 1ST PLACE IN EDITORIAL!!
IDA -- 2ND PLACE IN EDITORIAL!!
HILDA -- 5TH PLACE IN EDITORIAL!!
APRIL -- 3RD PLACE IN HEADLINE WRITING!!
APRIL -- 1ST PLACE IN NEWSWRITING!!
Kristen, Ida, & April are going to Regional UIL on April 14th!!
Coach: Mrs. Kim Hulett