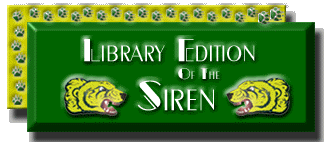 Click on picture for larger image
Springlake-Earth Community Library is a combination school/public library. It serves the students and faculty of Springlake-Earth Independent School District, the communities of Springlake and Earth, patrons in the surrounding area and members of the West Texas Library System. The library serves these areas by providing information and reading materials. All patrons may access needed information through the materials located in the library, Interlibrary Loan, and the four internet ready computers. The library provides extended hours so that all patrons may have more opportunities to access the library.
The library recently received great news!
The Springlake-Earth Community Library received a grant from the Telecommunications Infrastructure Fund Board.
This grant will enable the library to have six new Internet ready computers, six card catalogs, new software that will enable us to put the card catalog on the Internet and other really neat things! Look for future developments coming soon!

Hours:
Monday 8:30 - 5:00
Tuesday 8:30 - 4:30
Wednesday 8:30 - 4:30
Thursday 8:30 - 4:30
Friday 8:30 - 4:00

Telephone Number:
806-257-3357

E-mail:

Check It Out! (Books in the Library)