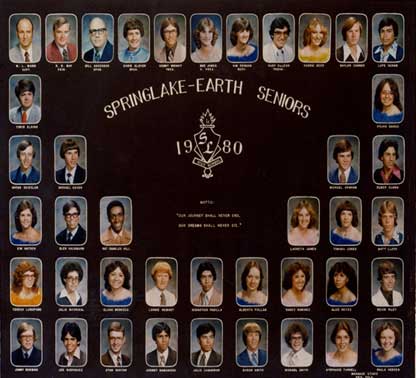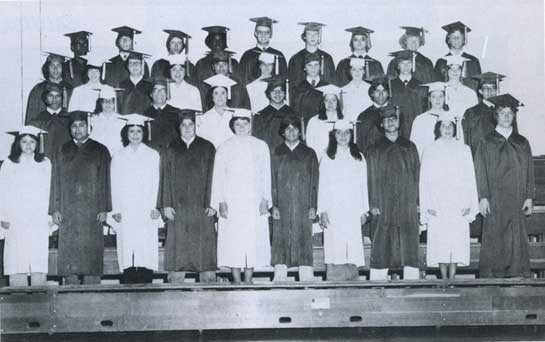 1979-1980 Seniors
Carrie Been, Donna Bellows, Gaylon Conner, Louis DeGrate, Rudy DeLeon, Kim Denham, Lupe Duran, Chis Elkins, Sylvia Garza, Ruben Gauna, Gregg Geissler, Mike Gover, Michael Graham, Glen Hausman, Kim Haydon, Ray Charles Hill, Lacretia James, Matt Lloyd, Sue Jones, Tamara Jones, Teresa Lunsford, Julio Madrigal, Elidia Mendoza, Lonnie Neinast, Sebastian Padilla, Alberta Pollan, Nancy Ramirez, Alice Reyes, Kevin Riley, Jimmy Robbins, Joe Rodriquez, Stan Runyon, Johnny Samaniego, Julio Samarron, Byron Smith, Michael Smith, Hattie James, Stephanie Tunnell, Paula Verden, and Kenny Wright.
Sponsors: Marie Slover and Bill Anderson

Class Officers:
Kenny Wright, President; Sue Jones, Vice President; Kim Denham, Secretary;
Rudy DeLeon, Treasurer; Tamara Jones, Historian.

Music
ra.ram
For more information about the 1980's link to
http://www.nhmccd.edu/contracts/lrc/kc/decade80.html
To see Rachea's 90's trends, Facts, and Fads
1990's
See the interview with Kim Haydon Perry, Senior 1980!
Interview
To See Class of 1980 Favorites
Favorites
Back to High School Home Page

Charity.... .....