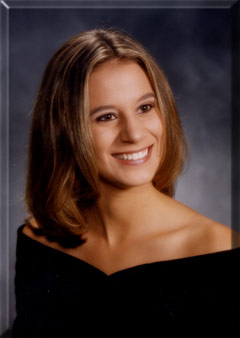 ---
Name: CONNIE
Age: 17
Birthdate: AUGUST 31
Pet Peeve:
PEOPLE WHO THINK THEY LOOK GOOD, BUT THEY REALLY DON'T; RUDE PEOPLE
Hobbies:
READING AND EXERCISING
Favorite high school memory:
JUNIOR YEAR, GOING TO THE STATE TRACK MEET; PROM 2000
What will you miss most about high school and WHY?
NOTHING, BECAUSE I AM READY TO LEAVE
Who will you miss most from high school and WHY?
PETE, BECAUSE I WON'T SEE HIM EVERYDAY
College you plan to attend:
TEXAS TECH
What are your future plans:
FINISH COLLEGE, GET A JOB, AND MAKE LOTS OF MONEY
What is your greatest fear in life?
NOT REACHING MY GOALS AND GETTING OLD
What is strange and or unique about you?
I AM THE YOUNGEST IN MY CLASS
What advice do you have to give to the lower classmen?
DON'T DO THINGS YOU WILL REGRET, BECAUSE YOU CAN'T TAKE THEM BACK
---