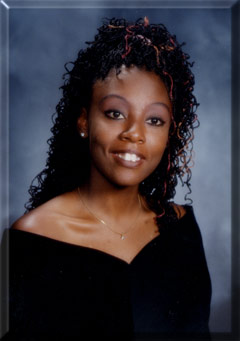 ---
Name: DEMETRA
Age: 18
Birthdate:
DECEMBER 3
Pet Peeve:
WHEN PEOPLE STICK THEIR CHEWING GUM ON THE SIDE OF THEIR PLATE OR ON THEIR COKE
Hobbies:
SHOPPING, TALKING ON THE PHONE
Favorite high school memory:
FRIENDS' PEP RALLY
What will you miss most about high school and WHY?
I WILL MISS FOOTBALL AND BASKETBALL SEASONS BECAUSE OUR GUYS ALWAYS
DID GOOD IN THEM
Who will you miss most from high school and WHY?
I WILL MISS MY FRIENDS THE MOST, BECAUSE THEY BRIGHTEN UP MY DAY
College you plan to attend:
TYLER JUNIOR COLLEGE
What are your future plans:
MAJOR IN NEONATAL NURSING AND THEN TRANSFER TO GAMBLING UNIVERSITY
Most embarrassing moment:
WHEN I WENT INTO A MEN'S RESTROOM IN A SPANISH RESTAURANT
What is your greatest fear in life?
LOSING ONE OF MY GRANDPARENTS OR MY MOM
What is strange and or unique about you?
I SING TO MYSELF
What advice do you have to give to the lower classmen?
NEVER CHANGE FOR ANYONE--JUST BE YOURSELF AND YOU WILL HAVE MORE FRIENDS
Who is your favorite faculty member and what do you like most about them:
MRS. WILLIAM--SHE NEVER STOPS CARING