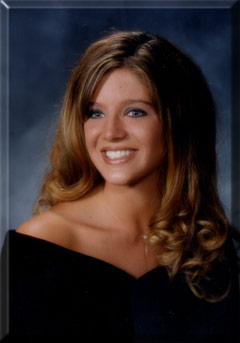 ---
Name: HEATHER
Age: 17
Birthdate: JUNE 6
Pet Peeve:
PEOPLE WHO THINK THEY ARE HOT WHEN THEY AREN'T
Hobbies:
BASKETALL, DANCING, AND SHOWING ANIMALS
Favorite high school memory:
STATE TRACK MEET
What will you miss most about high school and WHY?
SPORTS, BECAUSE I LOVE IT!
Who will you miss most from high school and WHY?
CHANCE, BECAUSE HE IS ONE OF MY BEST FRIENDS, AND HE HAS A GREAT PERSONALITY
College you plan to attend:
SOUTH PLAINS COLLEGE, THEN TRANSFER TO SAN MARCOS
What are your future plans:
GO TO COLLEGE, GET MARRIED, AND HAVE A FAMILY
Most embarrassing moment:
WHEN BRENDA PULLED MY PANTS DOWN IN THE HALL
What is your greatest fear in life?
A MOUSE TOUCHING ME
What advice do you have to give to the lower classmen?
DON'T STRESS OUT; IT'S NOT THAT IMPORTANT
Who is your favorite faculty member and what do you like most about them:
MRS. STEPHENS, BECAUSE SHE HAS A PERSONALITY
---