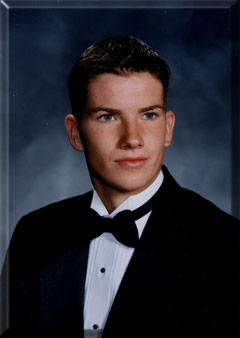 ---
Name: JAMES
Age: 18
Birthdate:
SEPTEMBER 27
Pet Peeve:
NOSEY PEOPLE
Hobbies:
PLAYING THE GUITAR, HANGIN OUT WITH FRIENDS, SPORTS, AND PLAYING IN OUR BAND: E.T.
Favorite high school memory:
HOMECOMING 2000
What will you miss most about high school and WHY?
FOOTBALL, BECAUSE I LIKED THE COMPETITION
Who will you miss most from high school and WHY?
FAMILY AND FRIENDS
College you plan to attend:
SOUTH PLAINS COLLEGE
What are your future plans:
GET AN ELECTRICAL ENGINEERING DEGREE
Most embarrassing moment:
IT'S A SECRET
What is your greatest fear in life?
I REALLY HAVEN'T THOUGHT ABOUT IT
What is strange and or unique about you?
IT'S A SECRET
What advice do you have to give to the lower classmen?
LIFE IS SHORT, LIVE IT TO ITS FULLEST
Who is your favorite faculty member and what do you like most about them:
MR. DUTTON, HE ALWAYS HAS SOMETHING INTERESTING TO SAY AND IS ALWAYS HAPPY
---