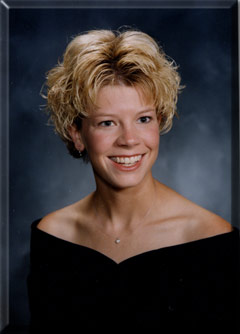 ---
Name: KATIE LYN
Age: 18
Birthdate: SEPTEMBER 22
Pet Peeve:
HEARING PEOPLE EAT
Hobbies:
COMPUTERS & SCRAPBOOKS
Favorite high school memory:
TIMES WITH SLADE; PROM 1999; GOING TO STATE IN UIL COMPUTERS
What will you miss most about high school and WHY?
SEEING SLADE AND MY FRIENDS EVERYDAY
Who will you miss most from high school and WHY?
SLADE, BECAUSE HE IS NOT ONLY MY BOYFRIEND, BUT ALSO MY BEST FRIEND!
College you plan to attend:
WEST TEXAS A&M UNIVERSITY
What are your future plans:
MAJOR IN SOMETHING TO DO WITH COMPUTERS
Most embarrassing moment:
ACCIDENTLY CUSSING REALLY LOUD IN MRS. ESTRADA'S CLASS!! (oh well...)
What is your greatest fear in life?
HAVING A WRECK AND HURTING SOMEONE;
NOT SUCCEEDING IN LIFE
What advice do you have to give to the lower classmen?
*DON'T WORRY ABOUT WHAT OTHERS THINK OF YOU AND DON'T JUDGE OTHERS!!*
*JUST BE HAPPY AND ENJOY HIGH SCHOOL!*
Who are your favorite faculty members, and what do you like most about them:
MRS. WILLIAMS & MRS. JONES;
THEY ARE REALLY GREAT TEACHERS AND I LOVE BEING IN THEIR CLASSES.
---