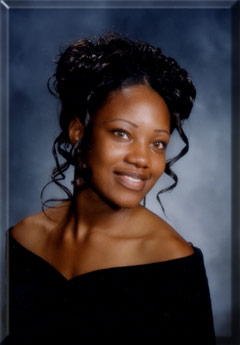 ---
Name: RACHEA DEANNE
Age: 17
Birthdate:
JUNE 1
Pet Peeve:
PEOPLE WHO PUT THEIR FEET ON ME!
Hobbies:
SHOPPING, CHEERLEADING, BASKETBALL, STUDENT COUNCIL, LEADERSHIP EARTH, FAMILY CAREER AND COMMUNITY LEADERS OF AMERICA, SKIING, HANGING OUT WITH CLIQUE, MEETING NEW PEOPLE
Favorite high school memory:
GOING TO THE STATE TRACK MEET AND GETTING PROM QUEEN WITH THE COOLEST GUY IN "HICKTOWN"
What will you miss most about high school and WHY?
I WILL MISS THE FACT I DIDN'T HAVE MAJOR RESPONSIBILITIES, BECAUSE MY MOM WAS ALWAYS RIGHT THERE
Who will you miss most from high school and WHY?
I WILL MISS MY CLIQUE, AND ALL THE COOL PARTIES WE THREW TOGETHER, BUT MOST OF ALL I WILL MISS MY BEST FRIENDS: MATTHEW, TRAVIS, CHELYN, AND BRANDI
College you plan to attend:
TEXAS TECH UNIVERSITY
What are your future plans:
MAJOR IN ARTS & SCIENCES
Most embarrassing moment:
HAVING A WRECK IN A GO-CART AT PUTT-PUTT
What is your greatest fear in life?
STRAYING AWAY FROM GOD WHEN I GET TO COLLEGE
What is strange and or unique about you?
I HAVE WRECKED INTO A WALL WITH A GO-CART, BEEN HIT BY A WAL-MART TRUCK AND BEEN DROPPED FROM THE TOP OF A PYRAMID, AND GUESS WHAT--I'M STILL HERE!!
What advice do you have to give to the lower classmen?
GOOD THINGS COME TO THOSE WHO WAIT, UNLESS YOU'RE TALKING ABOUT STUDYING FOR A TEST OR DOING YOUR HOMEWORK. BUT DON'T GET STRESSED, BECAUSE YOU ARE TOO BLESSED TO BE STRESSED.
Who is your favorite faculty member and what do you like most about them?
MY FAVORITE FACULTY MEMBERS ARE COACH GUINN AND HIS WIFE ALLISON, BECAUSE THEY ARE THEMSELVES AROUND EVERYONE; THEY DON'T PRETEND TO BE PEOPLE THEY AREN'T