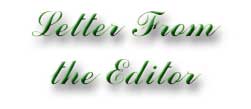 Welcome to the fourth and final edition of the Springlake-Earth Siren for the 1999/2000 school year!
Our High School staff has once again done a more than outstanding job in its final production. Way to go, girls!! I'm sure the editors of the Primary, Intermediate, and Junior High sections of the paper join me in thanking you for all the additional scanning and help you've provided in each of their sections. We wish you luck in all that you do!!
My thanks also goes out to each of the ladies involved in production of this year's paper. It has definitely been a learning experience for all of us and I am extremely proud of the hard work each of you has put into the paper. Thank you again!!
To our faithful readers, thanks for following each edition of the Siren in this, our first year of production. Please be sure to check back next year for more outstanding editions of "The Springlake-Earth Siren".
---
Please send comments or suggestions to Sheila Allen
---
Many thanks are due to the fine people at the Telecommunications Infrastructure Fund Board for making this project possible. Please take time to visit their home page and discover what this wonderful organization is doing to assist schools and Texas school children in becoming technologically adept in the twenty first century: