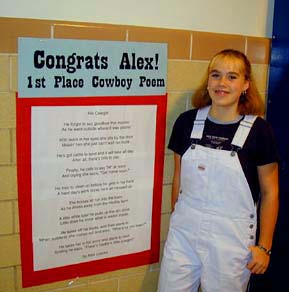 His Cowgirl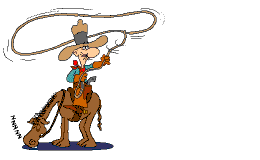 He forgot to say goodbye this mornin'
As he went outside where it was pourin'
With tears in her eyes she sits by the door
Missin' him she just can't wait no more.
He's got cattle to tend and it will take all day
After all, there's bills to pay.
Finally, he calls to say "Hi" at noon
And crying she says, "Get home soon."
He tries to clean up before he gets in the truck
A hard day's work done, he's all messed up.
The horses all run into the barn
As he drives away from the muddy farm.
A little while later he pulls up the dirt drive
Little does he know what is waitin' inside.
He takes off his boots, and then starts in
When suddenly she rushes out and asks,
"Where've you been?"
He takes her in his arms and starts to twirl
Smiling he says, "There's Daddy's little cowgirl!"
National Cowboy Symposium & Celebration
September 9, 2000 - Lubbock Civic Center
Division: 7th, 8th, 9th Grades
Poems had to be about Western, ranch or cowboy life. Poems were judged by originality, western content, rhyme, flow and ending. Alex received a belt buckle and $50 savings bond. Alex won first place out of 500 entries.