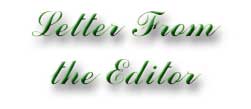 Welcome to the first full edition of the 2000-2001 Springlake-Earth Siren!
I think you'll join me in thanking the all-new Siren staff for all of their hard work and dedication to make this year's Siren the best ever. All of the students working on the Siren this year are new to the program and had to "hit the ground running", learning web page creation, graphic creation, and manipulation of digital images while producing the paper that you see today. A pretty tall order which the students have done an excellent job of filling! This year's paper is being created almost entirely by students with some contributions by teachers in Elementary (thank you Mrs. Cindy Furr and Mrs. Jeanne Furr!).
In addition, several of our High School staff members have gone above and beyond working on this edition--voluntarily staying after school hours and devoting off periods to the paper--and it definitely shows in the outstanding custom graphics and the excellent page layouts.
As you can probably tell, I can't say enough about the tremendous crew working on our paper this year...
THANKS to all of you!!
Sheila Allen
Editor-in-Chief
November 5, 2000
---