Matthew's Washington D.C. Leadership Conference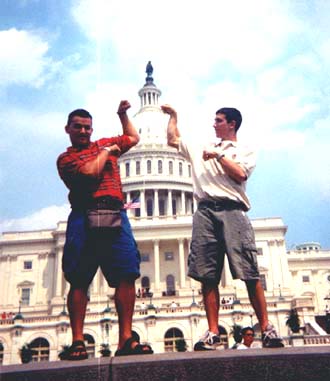 Matthew participated in the 2000 National Student Leadership Conference on International Law and Diplomacy National Student Leadership Conference
Matthew, a senior student at Springlake-Earth High School, participated in the 2000 National Student Leadership Conference on International Law and Diplomacy during the summer of 2000. He was joined by 125 students from across the United States and 75 students representing 35 different countries. While at the conference, he learned many interesting things regarding International Law.
Matthew participated in a Model United Nations Simulation and had the opportunity to meet top United States government officials, including Madeline Albright from the United States Department of State.
Matthew was chosen one of the four students to participate in a special wreath laying service at the Tomb of the Unknown Soldiers at Arlington National Cemetery. He also participated in debates with all 200 students and was voted top overall debater. He was given a personalized recommendation letter from the director of the National Student Leadership Conference for college applications. Matthew was also chosen as part of the Alumni Scholars Program for NSLC, and he has the opportunity to nominate someone from Springlake-Earth to participate in the 2001 National Student Leadership Conference.
The students attending the conference visited sites such as the Washington Monument, Lincoln Memorial, United States Capitol, White House, Jefferson Memorial, FDR Memorial, Holocaust Museum, Smithsonian Institute, Pentagon, Department of State, and British Embassy.
Matthew would like to thank the many contributors who helped finance his trip. Without the citizens of Earth, Springlake, and surrounding areas, this would not have been possible.