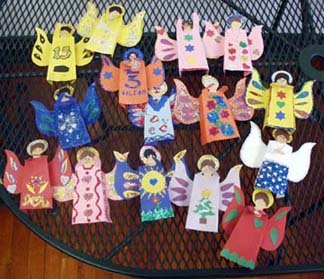 Materials Needed:
Construction paper of various colors or decorative origami
Glue
Angel pattern & templates
Pens (Black, Blue, Red)
Glitter (optional)
Procedure:
After choosing your color of the angel, run off angel body pattern on the construction paper. The angel body pattern could also be traced off on origami paper. Cut the angel body out of the paper.
Choose contrasting or coordinating colors for the decorations of your angel. Cut out the templates and use these to trace out shapes on contrasting or coordinating papers. Cut these shapes out.
Cut the halo out and glue to back of the head on angel body.
Glue cut-out head shape to front of head on angel body.
Glue hair on top of head to give your angel hair. Use the blue and black pens to draw eyes and nose on the angel's face. Use a red pen to draw lips on the face.
Glue different shapes and cutouts on the angel's wings and body front.
Glue white shape on back of angel's body. This is where you will write your letter.
Fold the angel on the fold lines and stand the angel up.
For further decoration, glue glitter on the angel.
Mrs. Geissler graded the angel cards using this grading system:
Proper use of color - 10pts
Use of Repetition - 10pts
Originality - 10pts
Turned in on time - 5pts
Efficient use of time - 15pts
Overall appearance - 50pts
Very Plain
Somewhat Plain
Somewhat overdone (busy, with no plan and/or out of balance)
Very overdone (busy with too much decoration and/or no balance at all)