Space Station Seventh Grade
By: Jerry Spinelli
Category: Juvenile Fiction
Seventh-grader Jason narrates the events of his year, from school, hair and pimples, to mothers, little brothers, and a girl.
The Adventures of Sherlock Holmes
By: Arthur Conan Doyle
Category: Fiction
He's rude, arrogant, cold, unfriendly, and easily bored. But nobody minds, because Sherlock Holmes is a genius at solving mysteries. This collection of some of Holmes's most intriguing cases includes unabridged tales of blackmail, lost fortunes, and, of course, murder.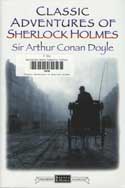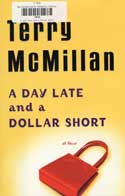 A Day Late and a Dollar Short
By: Terry McMillan
Category: Fiction
Long-awaited, this high-spirited new novel introduces the Price family: matriarch Viola, her sometimes-husband Cecil, and their four adult kids, each of who sees life-and another-through thick and thin, and entirely on their own terms. With her hallmark exuberance an sassy cast of characters, the author of "Waiting to Exhale" and "How Stella Got Her Groove Back" takes readers even further into the hearts, minds, and souls of America.