Springlake-Earth High School


2000 Varsity Track Schedule:

March 3rd-4th Morton (J.V. Boys & Var. Girls)
April 1st New Deal
March 4th Floydada (Varsity Boys)
April 6th-7th District-Springlake-Earth
March 10th-11th Springlake-Earth
April 15th Area-Abernathy
March 17th-18th Lockney
April 28th-29th Regional-Levelland
March 24th-25th San Angelo (Varsity Boys)

March 24th-25th Hart (Var. Girls & J.V. Boys)

May 12th-13th STATE-AUSTIN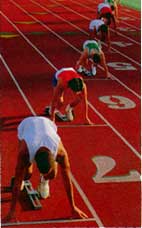 ~COMPETITION~
The race is not always to the swift...
but to those who keep on running.