The first thing we did was look on the internet and found a story about dairies. It was about two people who immigrated to America to begin their own dairy. It was a milk dairy. Then we went on a field trip to a dairy and just like the story we read the dairy owner was not from America either. He was from Holland! His name is Mr. V and he owns the Five Star Dairy. It was fun going to the dairy. First, we got to see them milk the cows with a machine inside the dairy. After that, we got to climb a ladder that was attached to a vast tank of milk. It had a lot of milk in it! Then right before we went to the cows that were waiting to be milked, we got to choose one bottle of milk to drink as we toured. We got to choose from strawberry, plain and chocolate. It was delishus. As we got back on the bus the guides told us they had never been on a bus before. We drove around to see the cows. We saw a newborn calf that was born just that morning. It was so cute!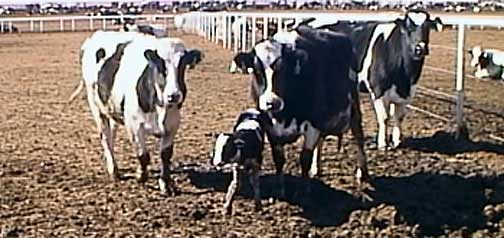 The cows that were giving milk had a special diet. They mixed food together in this big mixer and kept hay under a barn. The dry cows (that means they aren't giving milk right now) eat the hay that is left out.
Then we went back to the dairy and they gave us all ice cream bars. MMMMMMMM!!!!! They were so good we decided to make our own ice cream.
A few days later Mrs. Furr's dad came to visit and tell us about dairies a long time ago. He talked about milk days when he was a little boy. A mobile dairy also came to our school. He showed us how to milk a cow by hand. He also showed us some of the products made out of milk.
On the internet we found out that at one time people were not buying milk so they made a commercial with someone with a milk mustash. We had a lot of fun talking about milk commercials. We remembered a lot of them. We also looked up a place called Elsie's kitchen. She has lots of recipies made from milk. I bet that the third grade can answer most of your questions about dairies.