Computer Applications
Contestants: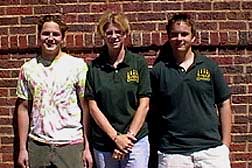 Greg, Katie, Clay
This contest focused on word processing speed and accuracy, computer skills in database and spreadsheet, and integration of applications. Thirty minutes was allowed for taking the test and an additional five minutes for the tie breaker.
CONGRATULATIONS TO
KATIE -- 2ND PLACE!!
GREG -- 3RD PLACE!!
CLAY -- 6TH PLACE!!
Katie & Greg are going to Regional UIL on April 14th!
Coach: Mrs. Janet Conkin