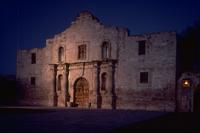 Texas, Our Texas
Our class presented a Texas play for our parents. We wish you could have seen it (our video camera isn't in yet), so we hope you will enjoy listening to us sing some of the Texas songs as you scroll through our Texas Unit. (The song file is a 852k Download AU file which will open on a separate page when you click the link)
Facts We Learned About Texas:
Texas was the 28th state to join the union of the United States of America.
Texas was once under six different flags--Spain, France, Mexico, Lone Star, Stars and Stripes, and Confederate Flag.
The Texas flag has one star-that's where we get our nickname of the Lone Star State. The color red is for courage, white is for purity and liberty. Blue is for loyalty.
Our motto is friendship. Texas is known as a friendly state.
The capitol is Austin.
The state tree is pecan tree.
The state flower is the bluebonnet.
The state bird is the mockingbird.
Armadillos made at home (Check out Jan Brett's website for the information on how to do this.)
Texas mobile
Armadillos drawn from an art lesson by Jan Brett
Tissue-paper bluebonnets
Long Tall Texan Poem
Texas Nursery Rhymes
Books:
The Armadillo from Amarillo by Lynne Cherry
The Legend of the Bluebonnet by Tomie DePaola
T is for Texas by Anne Bustard
Armadillo Rodeo by Jan Brett
Twelve Days in Texas by Donna D. Cooner
Texas, Our Texas
Eyes of Texas
Deep in the Heart of Texas
We Live in the State of TEXAS by Miss Jo
Dances:
Chicken Dance
Cotton-Eyed Joe
Texas Two-step
Websites: