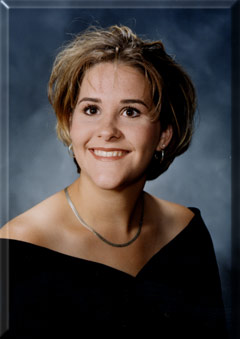 ---
Name: BROOKE
Age: 17
Birthdate: JULY 21
Pet Peeve:
PEOPLE WHO LIE TO MAKE THEMSELVES LOOK BETTER
Hobbies:
HANGIN' OUT WITH FRIENDS; SPENDING TIME WITH FAMILY
What will you miss most about high school and WHY?
SPENDING TIME WITH MY REAL FRIENDS
Who will you miss most from high school and WHY?
MY MOM, WE HAVE ALWAYS BEEN VERY CLOSE
College you plan to attend:
SOUTH PLAINS COLLEGE
What are your future plans:
GO TO SOUTH PLAINS, AND THEN TRANSFER TO
TEXAS TECH SCHOOL OF PHARMACY
Most embarrassing moment:
I DON'T GET EMBARASSED THAT EASILY (sometimes),
SO I REALLY DON'T HAVE A MOST EMBARASSING MOMENT
What is your greatest fear in life?
LOSING MY PARENTS OR FRIENDS
What is strange and or unique about you?
MY PERSONALITY
What advice do you have to give to the lower classmen?
WORK HARD, SET YOUR GOALS HIGH, AND HAVE FUN!!
Who is your favorite faculty member and what do you like most about them:
MY MOM (MRS. KIM PERRY)-SHE IS MY BEST FRIEND, SHE UNDERSTANDS THE THINGS I GO THROUGH AND SHE CAN SIT AND LISTEN TO ME WHEN I NEED SOMEONE TO TALK TO. SHE DOESN'T JUDGE ME FOR WHAT I FEEL OR WHAT I BELIEVE IN.