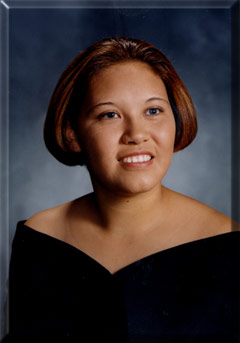 ---
Name: CRYSTAL
Age: 18
Birthdate: MARCH 27
Pet Peeve:
A SHIRT BEING TUCKED IN CROOKED
Hobbies:
PLAYING BASKETBALL, SOFTBALL, VOLLEYBALL AND HANGING OUT WITH MY FRIENDS
Favorite high school memory:
ALL MY FRIENDS, AND THE MEMORIES I HAVE WITH THEM
What will you miss most about high school and WHY?
I WILL MISS THE "GOOD" FOOD
Who will you miss most from high school and WHY?
STACY, BECAUSE SHE IS MY BEST FRIEND!
College you plan to attend:
ANGELO STATE UNIVERSITY
What are your future plans:
GRADUATE FROM COLLEGE WITH A DEGREE IN COMPUTER TECHNOLOGY
Most embarrassing moment:
GETTING STOPPED FOR HONKING
What is your greatest fear in life?
GOING OUT IN THE REAL WORLD ON MY OWN
What is strange and or unique about you?
I AM JUST ME
What advice do you have to give to the lower classmen?
CHOOSE YOUR FRIENDS WISELY
Who is your favorite faculty member and what do you like most about them:
MRS. MOSQUEDSA, BECAUSE SHE WAS NEVER ONE OF MY TEACHERS, SO I NEVER HAD A REASON TO DISLIKE HER
---