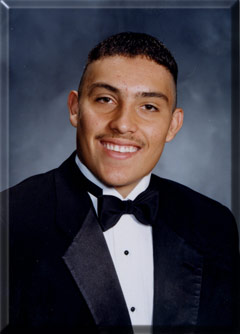 ---
Name: JESSIE
Age: 18
Birthdate:
JANUARY 16
Pet Peeve:
PEOPLE WHO TRY TO GET INTO OTHER PEOPLE'S BUSINESS
Hobbies:
LISTENING TO GREAT MUSIC
Favorite high school memory:
LAST REGULAR SEASON FOOTBALL GAME: S-E VS KRESS
What will you miss most about high school and WHY?
ATHLETICS
Who will you miss most from high school and WHY?
MY FRIENDS TO WHOM I TALK TO EVERYDAY
College you plan to attend:
SOUTH PLAINS COLLEGE, THEN TO TEXAS TECH UNIVERSITY
What are your future plans:
MAJOR IN ENGINEERING
Most embarrassing moment:
HAVE NONE; IT'S ALL GOOD!
What is your greatest fear in life?
NOT BEING ABLE TO TAKE CARE OF MY IMMEDIATE FAMILY NOW, AND MY OWN FAMILY IN THE FUTURE
What advice do you have to give to the lower classmen?
HAVE FUN, BUT WORK HARD AT KEEPING YOURSELF READY FOR THE FUTURE
Who is your favorite faculty member and what do you like most about them:
MR. GASTON-HE IS A VERY SMART AND AVERAGE PERSON WHO REALLY CARES ABOUT HIS STUDENTS. HE TAKES PRIDE IN GETTING STUDENTS READY FOR THEIR FUTURE PLANS-WHATEVER THEY MAY BE!!
---