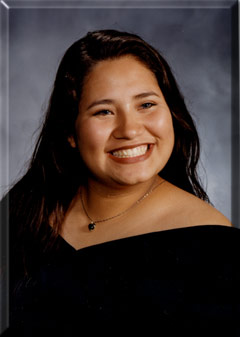 ---
Name: CYNTHIA
Age: 18
Birthdate: MARCH 4
Pet Peeve:
PEOPLE WHO BRAG ABOUT THEMSELVES AND PEOPLE WITH LOW SELF-ESTEEM
Hobbies:
TALKING ON THE PHONE; GOING OUT WITH MY FRIENDS
Favorite high school memory:
MY SENIOR YEAR
What will you miss most about high school and WHY?
GOING TO SCHOOL
Who will you miss most from high school and WHY?
MY TEACHERS, MR. VAUGHAN, AND MY FRIENDS
College you plan to attend:
JOB CORPS
What are your future plans:
BE A REGISTERED NURSE
Most embarrassing moment:
IN 5TH GRADE, I WAS LOOKING FOR MY PENCIL; I ACCUSED SOMEONE OF STEALING IT, AND IT WAS IN MY HAIR ALL ALONG
What is your greatest fear in life?
TO DROWN
What is strange and or unique about you?
I'M USUALLY IN A GOOD MOOD
What advice do you have to give to the lower classmen?
NEVER SLACK OFF ON YOUR STUDIES, AND ALWAYS KEEP YOUR HEAD UP
Who is your favorite faculty member and what do you like most about them:
ALL MY TEACHERS--BECAUSE OF THE WAY THEY TREATED US THIS YEAR
---