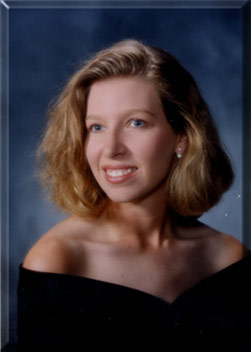 ---
Name: WHITNEY
Age: 18
Birthdate: SEPTEMBER 8
Pet Peeve: TWO-FACED PEOPLE
Hobbies: SHOPPING, TALIKING ON THE PHONE, WORKING WITH ANIMALS
Favorite high school memory: PROM 1999- WHEN MATTHEW DANCED WITH MRS. CONKIN
What will you miss most about high school and WHY? SEEING MY FRIENDS EVERYDAY
Who will you miss most from high school and WHY? MY SENIOR CLASS, THEY WERE NEVER BORING
College you plan to attend: South Plains
What are your future plans: go to graduate school and get my PHD
Most embarrassing moment: AT A STOCK SHOW SOME GUYS FROM ANOTHER TOWN PUSHED ME INTO A HOG. THEY WERE LAUGHING SO HARD THAT THEY COULDN'T HELP ME UP!
What is your greatest fear in life? HEIGHTS
What is strange and or unique about you? I AM AN INDIVIDUAL PERSON
What advice do you have to give to the lower classmen? IT'S BETTER TO BE DIFFERENT AND BE A SOMEBODY, THAN TO BE LIKE EVERYONE AND BE A NOBODY.
---