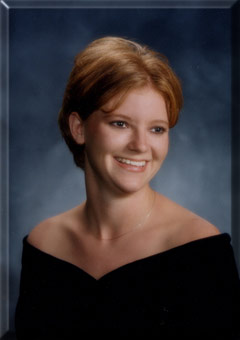 ---
Name: KRISTEN
Age: 17
Birthdate: MAY 17
Pet Peeve:
PEOPLE WHO MAKE THINGS UP TO MAKE THEMSELVES LOOK BETTER
Hobbies:
READING, VOLLEYBALL, BASKETBALL, DANCING
Favorite high school memory:
GOING TO STATE IN THE SPRINT RELAY
What will you miss most about high school and WHY?
COMPETITION, BECAUSE I LOVE IT
Who will you miss most from high school and WHY?
ELVIS (BUBBA), BECAUSE I WILL MISS HIS MOOD SWINGS AND PERSONALITY
College you plan to attend:
HARDIN-SIMMONS UNIVERSITY
What are your future plans:
FINISH COLLEGE, GET A GOOD JOB, AND WHATEVER COMES MY WAY
What is your greatest fear in life?
GETTING HIT BY A TORNADO
What is strange and or unique about you?
RED HAIR
What advice do you have to give to the lower classmen?
DO YOUR BEST, WORK HARD, AND HAVE FUN BECAUSE IT GOES BY FAST
Who is your favorite faculty member, and what do you like most about them:
COACH HULETT; HE IS EASY-GOING
---