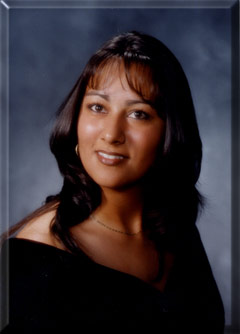 ---
Name: LINA
Age: 18
Birthdate: DECEMBER 21
Pet Peeve:
PEOPLE WHO LIE
Hobbies:
DANCING, COLLECTING INDIAN DOLLS, AND TALKING ON THE PHONE
Favorite high school memory:
MY VERY FIRST DAY OF HIGH SCHOOL!
What will you miss most about high school and WHY?
FOOTBALL GAMES BECAUSE OF INTERESTING MOMENTS
Who will you miss most from high school and WHY?
NANA, MY SISTER, MADE MY LAST YEAR FUN AND INTERESTING
College you plan to attend:
WEST TEXAS A&M UNIVERSITY
What are your future plans:
GO TO COLLEGE
Most embarrassing moment:
FRESHMAN INITIATION
What is your greatest fear in life?
LONELINESS
What is strange and or unique about you?
I'M ME AND NO ONE ELSE IS LIKE ME!!
What advice do you have to give to the lower classmen?
ENJOY YOUR FOUR YEARS; LIVE LIFE TO THE FULLEST!!
Who is your favorite faculty member and what do you like most about them:
MRS. HUCKABEE; SHE MADE HIGH SCHOOL FUN AND EXCITING, AND SHE STOOD OUT, JUST LIKE ME!!
---