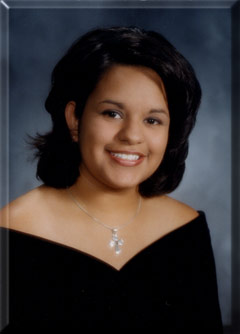 ---
Name: NANCY SUE
Age: 17
Birthdate: JUNE 28
Pet Peeve:
BEING TOLD THAT I WON'T OR THAT I CAN'T DO SOMETHING
Hobbies:
GOING TO SCHOOL, HANGING OUT WITH FRIENDS, AND HAVING FUN ON THE WEEKENDS
Favorite high school memories:
2000 TASC STATE CONVENTION
GOING TO THE KISS "FARWELL TOUR" CONCERT
What will you miss most about high school and WHY?
*THE SMALL TALKS AND THE QUALITY TIME I SPENT WITH MY FRIENDS EVERYDAY AFTER LUNCH*
*FRIDAY NIGHT FOOTBALL GAMES*
Who will you miss most from high school and WHY?
MY BEST FRIENDS ==> THEY WERE ALWAYS THERE FOR ME
AND TAUGHT ME THE TRUE MEANING OF FRIENDSHIP
College you plan to attend:
ANGELO STATE UNIVERSITY
What are your future plans:
STARTING OVER AND NOT WORRYING ABOUT THE PAST
Most embarrassing moment:
IF I TOLD YOU, YOU'D LAUGH AT ME
What is your greatest fear in life?
BEING A FAILURE IN THE EYES OF THOSE WHO HAVE WATCHED ME GROW UP
What is strange and or unique about you?
MY INABILITY TO KEEP QUIET
What advice do you have to give to the lower classmen?
*DON'T SPEND YOUR TIME BEING WHAT OTHERS WANT YOU TO BE, BECAUSE YOU'LL GET CAUGHT UP IN THE CROWD AND FORGET WHAT YOU STAND FOR*
Who is your favorite faculty member, and what do you like most about him/her:
Mrs. Huckabee
SHE'S ALWAYS WELCOMED ME WITH A SMILE AND ALWAYS ENCOURAGED ME TO TRY HARDER AND ACCOMPLISH WHAT NO ONE EXPECTED ME TO. SHE'S NOT ONLY A GREAT TEACHER BUT A GREAT FRIEND.
---