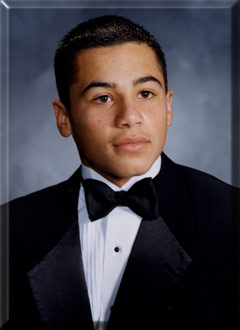 ---
Name: ROMY
Age: 18
Birthdate: JANUARY 28
Pet Peeve:
YELLING OR JUST BEING LOUD
Hobbies:
LIFTING WEIGHTS, HANGING WITH VALERIE, CAUSING TROUBLE
Favorite high school memory:
RUNNING TRACK AND PLAYING FOOTBALL
What will you miss most about high school and WHY?
FOOTBALL AND TRACK, BECAUSE THEY ARE THE THINGS I DID BEST
Who will you miss most from high school and WHY?
VALERIE, BECAUSE SHE JUST MAKES ME HAPPY
College you plan to attend:
SOUTH PLAINS COLLEGE
What are your future plans:
MAKE MONEY, BABIES, AND MY WIFE HAPPY
Most embarrassing moment:
I DON'T GET EMBARRASSED
What is your greatest fear in life?
TO BECOME SOMEONE I HATE
What is strange and or unique about you?
I CAN BENCH TWICE MY WEIGHT
Who is your favorite faculty member, and what do you like most about him/her:
COACH BODE, BECAUSE HE IS A VERY PUSHY PERSON, AND HE DOES THIS BECAUSE HE KNOWS WHAT YOU ARE CAPABLE OF DOING
---