Halloween in Mrs. Carr's Class

It is October and in Kindergarten all we want to talk about is how we are going to dress up for Halloween, what kind of treats we are going to get when we go Trick-or-Treating, and how badly we are going to scare our teacher with our costumes. When we started this activity Mrs. Carr let us all tell her how we want to dress for Halloween. She also had us draw a picture of the costume we want for Halloween. Then she told us that she had a story to read to us about someone who did not get to dress like he wanted to. The story she read was called The Hallo-Wiener by Dav Pilkey. The book was good and had great pictures.
In the book, Hallo-Wiener, Oscar's friends changed his nickname from "Wiener Dog" to "Hero Sandwich" after Oscar did a very heroic deed for his friends by rescuing them from the pond where they fell after being scared by a monster that turned out to be a couple of cats!
After reading the book, we talked about how Oscar was a true friend to others--others who had been mean to him and made fun of him when he wore the costume his Mom made for him instead of the one he really wanted to wear. We discussed different ways to be a true friend to others. We also realized that whether a "Wiener Dog" or a "Hero," all dogs (and some kids too!) like dog bones. Mrs. Carr brought the supplies for us to make our own dog bones, and they were delicious! We have the recipe if you would like to try them for yourself.
Mrs. Carr also brought Wiener Dogs and a Hero Sandwich to share with the class! Boy, were we full, but we had a great time.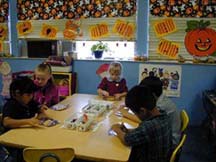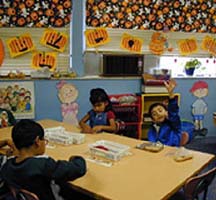 Home Page| Dog Bone Recipe| Mrs.Weldon's Rain forest