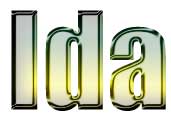 Birthday: October 1
Age: 18
College you plan to attend and your plans there:
Oral Roberts University; I will be involved in basketball
Future Plans:
Major in elementary education, minor in modern foreign languages
Hobbies:
Playing guitar, singing
Favorite Class:
1st period sports; Literature

Favorite High School Memory:
Cousin Mark and cousin Frankie having a food fight with me in the middle in the cafeteria with enchiladas
Most embarrassing moment:
Got my balloon that was tied to my wrist caught in the ceiling fan at T.G.I. Fridays
What will you miss most about high school:
Just seeing my friends everyday
What will you miss least high school:
Literature and BCIS tests
Who will you miss most and why:
To name a few: Hilda, Matt, April, Clay, Jeff, Haylee, Stacy, Mark, Felicia, Kristal, and Brenda. Just about everyone (good times)
What advice do you have for lower class men:
Work now, have fun later!!
Activities and Organizations:
S-E Wolverine Basketball and Cross Country; Cheerleader; UIL One Act Play; UIL OAP All-Star Cast; Student Council President; Sophomore and Junior Class President; "Best Personality"; "Most Courteous"; UIL Regional Qualifier in Journalism; ; UIL Regional Qualifier in Spelling and Vocabulary; Regional Qualifier in Lincoln-Douglas Debate.