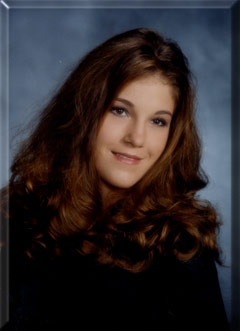 ---
Name: CHRISSY
Age: 18
Birthdate: NOVEMBER 1
Pet Peeve:
UNSANITARY PEOPLE
Hobbies:
GARDENING,WORKING WITH SHOW STEERS, WALKING, RIDING BIKE, AND SPENDING TIME WITH MY FAMILY AND FRIENDS
Favorite high school memory:
BEING STUDENT COUNCIL PRESIDENT
What will you miss most about high school and WHY?
SEEING MY FRIENDS
Who will you miss most from high school and WHY?
MEGAN, MY SISTER; WE ARE CLOSE
College you plan to attend:
SOUTH PLAINS COLLEGE
What are your future plans:
PURSUE A CAREER IN NEONATAL NURSING
What is your greatest fear in life?
A VERY BAD CAR WRECK
What is strange and or unique about you?
NOT CARING WHAT I LOOK LIKE WHEN I COME TO SCHOOL
What advice do you have to give to the lower classmen?
GET INVOLVED AND HAVE FUN
Who is your favorite faculty member, and what do you like most about him/her:
MRS. HICKFORD; SHE HAS A GREAT PERSONALITY AND HIGH STANDARDS