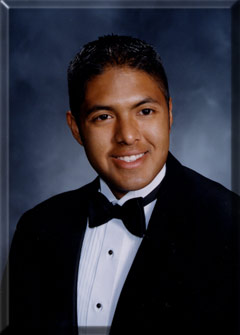 ---
Name: FELIX
Age: 17
Birthdate: MAY 25
Pet Peeve:
PEOPLE WHO THINK THEY KNOW EVERYTHING
Hobbies:
SPORTS AND HANGING OUT WITH FRIENDS
Favorite high school memory:
LAST HOME FOOTBALL GAME
What will you miss most about high school and WHY?
FRIENDS AND FAMILY
Who will you miss most from high school and WHY?
MY CLOSE FRIENDS
College you plan to attend:
ANGELO STATE UNIVERSITY
What are your future plans:
GET AN EDUCATION IN COLLEGE AND LIVE A GOOD LIFE
Most embarrassing moment:
NONE (WHATEVER!!)
What is your greatest fear in life?
GETTING CAUGHT DOING SOMETHING I AM NOT SUPPOSED TO BE DOING
What is strange and or unique about you?
NOTHING, I'M NORMAL (YEAH RIGHT!!)
What advice do you have to give to the lower classmen?
YOU ONLY GO THROUGH HIGH SCHOOL ONCE, LIVE LIFE TO THE FULLEST!
Who is your favorite faculty member, and what do you like most about him/her:
MR. GASTON; HE HAS A LOT OF CHARACTER AS A TEACHER
---