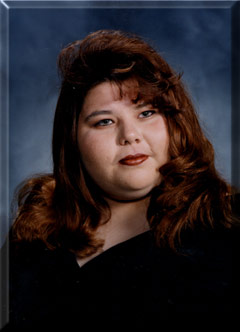 ---
Name: MARY ELLEN
Age: 19
Birthdate: OCTOBER 27
Pet Peeve:
TWO-FACED PEOPLE
Hobbies:
WRITING LETTERS AND HANGING OUT WITH MY FRIENDS
Favorite high school memory:
MAKING JOKES WITH MY FRIENDS AND JUST HANGING OUT WITH EVERYONE
What will you miss most about high school and WHY?
MY FRIENDS; THEY'VE ALWAYS BEEN HERE FOR ME, INCLUDING MY NEW FRIENDS
Who will you miss most from high school and WHY?
PEOPLE LIKE BROCK WHO WOULD PICK ON ME AND MADE MY LIFE MORE INTERESTING. I LOOK FORWARD TO ARGUMENTS WITH HIM AND EVERYONE ELSE. IT'S HOW I PASS THE TIME.
What are your future plans:
GET A JOB
Most embarrassing moment:
WHEN I FELL ASLEEP IN GOVERNMENT CLASS AND EVERYONE WAS LAUGHING AT ME
What is your greatest fear in life?
LONELINESS
What is strange and or unique about you?
I'M A SHY PERSON
What advice do you have to give to the lower classmen?
BE TRUE TO YOURSELF
Who is your favorite faculty member, and what do you like most about him/her:
MR. DUTTON, BECAUSE HE'S ALWAYS BEEN HERE FOR HIS STUDENTS. HE CAN TAKE OUT YOUR WORST SITUATION AND MAKE YOU SMILE